partial removable dentures
These are made when the number of teeth left in a mouth is not capable of filling their function, but it still not necessary to remove them.
- for connection between the teeth of the patient and the denture we make clasps
- to reinforce the denture we use a tendons.
- to connect the individual parts of the denture we use bars,straps or plates.
All of these parts are fully non-metallic ! (comparison with the older version)
The denture can be made from one basic material (in the colour of the mucuos membrane)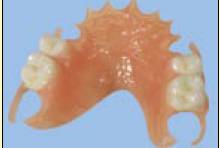 or by combining two materials (in the colour of teeth and mucuos membrane).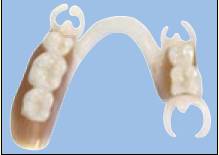 That is how the unreachable esthetics and elasticity of metals is reached while the solidity stays the same.
In the case that even after using maximally precise technology a patient does not adapt to his or her prothesis to any reason, we offer additional underlaying, as in underlaying with simultaneous reduction of the basis (pink part of the prothesis). For underlaying we use elastic material with excellent biological and technical attributes: it has a smooth surface – it does not absorb liquids from food or mouth, it is adaptable by heat and, finally, it chemically attracts to the material which the reconstruction is made of, thus causing  no conflict between them. Its plasticity can be set according to the demands of a patient.